Introduction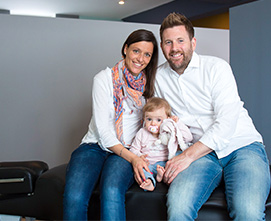 Born healthy
We thank you for giving us the opportunity to share our passion with you.
Our Purpose here at Constable Chiropractic is to serve, to love, to inspire. We aim to serve as many people as humanly possible by correcting the vertebral subluxation to help them lead longer, happier and healthier lives.
Did you know that you were born to be healthy? Did you now that you have the genetic potential to be strong, beautiful and smart? If you did know that, great! If you didn't, you should! And that is true for every human being, not just you and us. You see, Chiropractic is about helping you fulfill that genetic potential. Chiropractic is about helping you to vibrate at a higher level. Chiropractic is about turning the power back on and lights back up.
We understand that most people seek the service of a doctor to relieve an ache or a pain or other symptom and we fully acknowledge that most people are initially interested in ridding themselves of that symptom.
However, Chiropractic is not about taking something from you, it is about returning something to you. Chiropractic is not about removing your symptom, it is about giving you back your health.
You see folks, our health will always be diminished by three things: emotional, chemical and physical stress. These stressors sooner or later interfere with the function of our nervous system and compromise our ability to appropriately adapt to our environment. If you ask any health care expert worth their weight in salt, they will tell you that the inability to appropriately adapt to one's environment will ultimately result in reduced health.
Subluxation
In Chiropractic, we use a word to describe a particular type of nervous system interference called, "subluxation". We recognize the importance of the subluxation and its potentially devastating effects upon human health and potential. That is why we have a Vision where every single person on the face of this planet is checked for vertebral subluxation and adjusted, when necessary, from birth to death.
Our Mission
Now, with the Earth's population quickly approaching 7 billion (!) people, we know we have a tremendous amount of work to do to realize that vision. However, while we are busy taking care of the subluxations in this world, there are some things that you can do to prevent subluxations from happening in the first place. They are simple things and things that everybody can do but people have to be aware of those things in order to act upon them. That's why our Mission is to correct the vertebral subluxation and to educate and inspire people to take control of their lives and fulfill their full human potential.
So, take a few moments to surf our site and read up a little on what Chiropractic is, what role The Nervous System plays in your health, what a Subluxation is, and what we mean when we say "Adjustment".
To get to know us a little better, check out our Dream Team page.
Getting back your health
When you're finished and you've decided you want your health back and you want Chiropractic to help you get there, click on our Contact page, give us a call and we'll set you up for a Chiropractic assessment to see if we can help you. If you think you're too far away, call us anyway and we'll put you in contact with one of our great Chiropractic colleagues closer to you either here in Germany or anywhere in the world.
Just before we're finished, we need to spread the word of Chiropractic if we are to fulfill our Purpose, realize our Vision and achieve our Mission. You can help us by becoming "friends" of Chiropractic Constable on Facebook. By clicking the "like" button and getting your friends and family on board you will be helping to strengthen Chiropractic for the future which will help us to better serve you, your children and your grandchildren.
So, thanks for visiting us here. We look forward to serving you soon.
Take care and best wishes,

Dr. Danny Constable - Chiropractor
Contact
CHIROPRACTIC CONSTABLE
Hauptstraße 38
65719 Hofheim
Tel: +49 6192 977 922 2
opening times
Monday
8am - 12pm
Tuesday
8am - 12pm & 3pm - 7pm
Wednesday
8am - 12pm
Thursday
8am - 12pm & 3pm - 7pm
Friday
8am - 12pm